How do I Reset red iPhone 7Plus/7/SE/6/5/4S/4/3GS Backup Password?

Jul. 19, 2013 4:12 pm / Posted by Michael Eric to iTunes
Follow @MichaelEric
You may choose to create a password when you back up your red iPhone 7/SE/6s/6/5/4S/4/3GS files on iTunes. However, you need to have iPhone backup password reset once you forgot your password. Or you will not be able to restore from backup and your data will be unreadable.
If you forgot the password, you can continue to back up and use the device, however you will not be able to restore the encrypted backup to any device without the password. Thus, you need iTunes Backup Password Recovery to help you reset iPhone backup password.
How to Reset iTunes Backup Password for iPhone 5/4S/4/3GS, etc.?
Forgot iPhone backup password? No worries. Just download iTunes Backup Password Recovery, which is the most professional tool to help you recover iPhone backup password Windows. It can also allow you to regain access to recover your data of iPhone, iPad, iPod devices.
Download SmartKey iTunes Backup Password Recovery:
Firstly, download iTunes Backup Password and open the file you want to recover.

Note

:

Mac: ~/Library/Application Support/MobileSync/Backup/
Windows 8: Users>USERNAME>AppData>Roaming>Apple Computer>MobileSync>Backup
Windows 7: C:\Users\uer\AppData\Roaming\Apple Computer\MobileSync\Backup
Windows XP: C:\Documents and Settings\user\Application Data\Apple Computer\MobileSync\Bckup

Secondly, select an Attack Type to reset password to unlock iPhone backup files effectively and correctly.

Finally, start to recover iPhone encrypted backup password.
How to Backup iPhone, iPad, iPod, etc. on iTunes?
Sometimes, this backup file is encrypted by malicious person who can access to your computer. After resetting this unknown iPhone backup password, you'd better use iTunes to backup Apple devices by yourself to prevent data loss this time. There are 2 ways for you to backup your Apple devices with iTunes.
1. Sync with iTunes. But it's unworkable if you have backed up on iCloud.
2. Right-click or control-click the Apple devices in iTunes under Devices and choose Back Up.
How to Set iTunes Backup Password?
After Backup, it's highly recommended to set a backup password to prevent spying eyes.
Connect your Apple devices to iTunes and choose "Encrypt iPhone backup". Enter a password in the pop-up dialogue.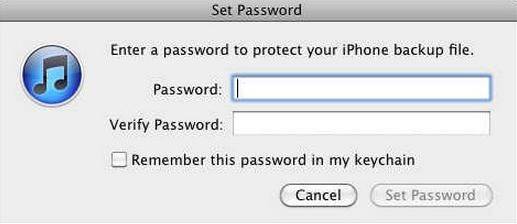 Learn how to reset iPhone encrypted backup password with iTunes Backup Password Recovery here. What's more, restore iPhone backup files whenever you lose them.
Download SmartKey iTunes Backup Password Recovery:
comments powered by