Turn off Forgotten iPad 4 Backup Password with Ease

Apr. 25, 2013 4:03 pm / Posted by Michael Eric to Files & Database
Follow @MichaelEric
In order to facilitate its users to restore information from a backup, iTunes enables its users to backup their settings, messages, camera roll, documents, saved games etc. except the contents. Most people would like to backup their information to iTunes so that they can restore it whenever they need.
In this article, taking iPad 4 (also known as iPad with Retina display) for example, we will go through some useful tips about back up in iTunes such as how to recover backup password to iPad 4 when you unfortunately forgot iPad 4 backup password in detail.
How to Backup Information to iTunes?
Step 1: Connect your iPad 4 to your computer. (Make sure you have installed the latest version of iTunes)
Step 2: Open your iPad 4 Summary tab. Click the "View" menu and select "Show Sidebar" from any view in iTunes. Then select your iPad 4 in iTunes under "Devices".
Step 3: Click the "Back Up".
Note: You can verify the backup by opening iTunes Preference and select "Devices tab". You will see the backup data and time appears along the name of your iPad 4.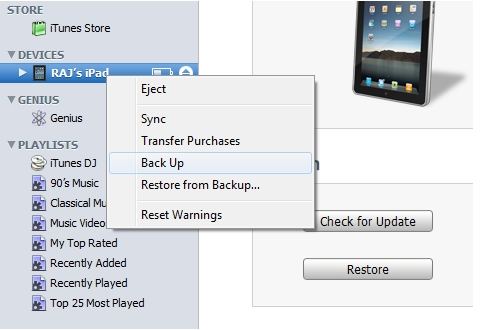 How to Encrypted Backups in iTunes?
iTunes also enable you to password protect your backup information stored in iTunes. It can be simply operated with following steps.
Step 1: Open your iTunes on your computer and connect your iPad with Retina display (iPad 4) to your computer.
Step 2: Click the name of your iPad 4 in the sidebar. Navigate to the Summary tab, select "Encrypt iPad Backup".

Step 3: Type your password and click "Set Password".
How to Recover Lost Backup Password in iPad 4?
Unfortunately, you forgot password to iPad 4 backup and cannot restore from backup. Don't freak out. This is really common for iOS 11/10/9/8/7 users. Luckily, you can easily remove iPad 4 encrypted backup password with a powerful iTunes backup password recovery tool. Then I will show you how to recover backup password with iPad 4 (iPad with Retina display) backup password recovery software. Take note that this software supports all iPad models, such as iPad Pro, iPad Air, iPad mini with Retina Display(iPad mini 2), iPad with Retina Display(iPad 4), iPad 3, iPad 2, iPod Touch 5g, iPod Touch 4g, etc.
We have discussed the common problems about iPad 4 backup in iTunes. Especially, the way to recover backup password in iPad 4 can be a great assistance to help you get rid of forgotten iPad 4 backup password with ease.
Download SmartKey iTunes Backup Password Recovery:
comments powered by