Tips on Password Protecting MS Excel 2013 File for Green Hands

May. 20, 2013 01:52 pm / Posted by Michael Eric to Office Tricks
Follow @MichaelEric
Microsoft Excel 2013 as a part of MS Office 2013 has come to our eyes with the new UI that is familiar to a Windows 8 and Metro Style app interface. Though Excel 2013 works essentially the same as Excel 2010, the new UI confuses many green hands first used Excel 2013 workbook. So in this article we focus on how to password protect Excel 2013 files.
Why Need to Protect Workbook in Excel 2013?
People have different reasons to password protect Excel 2013. A staff may need to decrypt Excel 2013 spreadsheet before sending it to others; a lawyer needs to password protect Excel 2013 to make sure the workbooks are for the correct eyes only… No matter for what reasons, password protecting MS Excel 2013 is a simple and effective practice to protect your personal information.
How to Password Protect Microsoft Excel 2013 Files from Opening?
The following part shows you a simply instruction of password protecting Microsoft Excel 2013 files.
How to Password Protect Excel 2013 Read Only Option?
Microsoft Excel 2013 also let users to secure their documents from changing by using edit restriction options. Thus others can only read but cannot change your Excel 2013 files.
Here is how:
1. Click on the "FILE"-> "Info" option -> "Protect Workbook" -> Restrict Editing
2. Set the formatting as well as editing restrictions on the document.

3. Check the "Allow only this type of editing document" within the Editing Restrictions and choose the No change (Read only) option in the dropdown list and then select "Everyone" in groups.

4. Enter your password in the "Start Enforcing Protection" box and click "OK".
Protecting an Excel 2013 workbook is easy with the steps above. In addition, a number of Excel 2013 users complain that they often encounter the dilemma of forgetting Excel 2013 password. With that in mind, I will introduce a simple way for you to find your lost Excel 2013 password below.
How to Recover Password-protected Excel 2013 File?
Now following the tips we offered you can easily protect workbook in Excel 2013 whenever you need to. And if unfortunately forgot MS Excel 2013 password, don't worry; the powerful Microsoft Excel 2013 password recovery tool will recover your password effectively and professionally.
Download SmartKey Excel Password Recovery:
comments powered by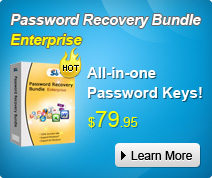 NEXT TOPICS

Online Password & Key
Crack and get back all your online webiste password such as facebook and twitter