How to Perform Access 2013 Password Recovery?

Jul. 01, 2013 10:17 pm / Posted by Michael Eric to Files & Database Topics
Follow @MichaelEric
Forgot Access 2013 password? Need to recover Microsoft Access 2013 database password? No panic. Try Access 2013 Password Recovery to regain your access to your Microsoft Access 2013 .accdb files and .mdb files.
With the high pace of information developing, people enjoy the achievement, but also take the high risk of being hacked. Even you keep a password to protect your Access database, once you are being hacked, you should find a way to out.
How to Use Access 2013 Password Recovery?
Access 2013 Password Recovery tool is professional to recover the lost or forgotten Access MDB password only in 3 clicks.
Free Trial "Access Password Recovery" to Recover *.mdb File Password:
After learning how to recover Microsoft Access 2013 password, you should move to create a password to encrypt your Access 2013 in the event of needing to change the former one.
How to Encrypt the Database with a Password?
After having a protected password, try to avoid forgetting it. Or you have to reset Access 2013 database password.
How to Avoid Forgetting Access 2013 Password?
1) Write down your strong Access 2013 password on a post-it so you can view it when you forget it.
2) You can take the most effective way. To use a password manager tool to help you remember and replay all your complex passwords.
3) Use a password hint. When you create your Access 2013 password, create a password hint. If your password is changed, you can get your password back by using the hint.
All in all, improve the security of your Access 2013 password. Or, use Access 2013 Password Recovery when you need to reset access 2013 database password.
Download SmartKey Access Password Recovery:
comments powered by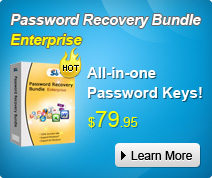 NEXT TOPICS

Files Password & Key
Recover all your PDF, rar, sql and databse password