Best Way to Remove Password from Access Database 2016

April. 07, 2017 11:19 am / Posted by Michael Eric to iTunes
Follow @MichaelEric
When using Access Database, but unfortunately forget the password of a file that you have use passcode to lock. Or find it complex to enter password again and again while the content of Access Database file is needed. In this article, we provide a most efficient method which can help you recover and remove the password of encrypted Access Database 2016 files. Follow us and find out what you need.

Part 1: How to Recover Password of MS Access Database 2016
If you unluckily forget Access Database password, but have no idea to think of it. We highly recommend you Access Password Recovery, this easily used password finder tool can help you get lost or forgotten file passwords. Not only Access 2016, it can also help to recover the password of MS Access Database 2010, 2007, 2003, etc. Then have a look at how it works.
Free Trial "Access Password Recovery" to Recover *.mdb File Password:
Step 1: Download and install Access Password Recovery, launch the software and you can see the interface below. "Open" the .mdb file by yourself, or automatically "Search" .mdb files in your computer. (You can select individual or multiple files, both of the two ways are supported.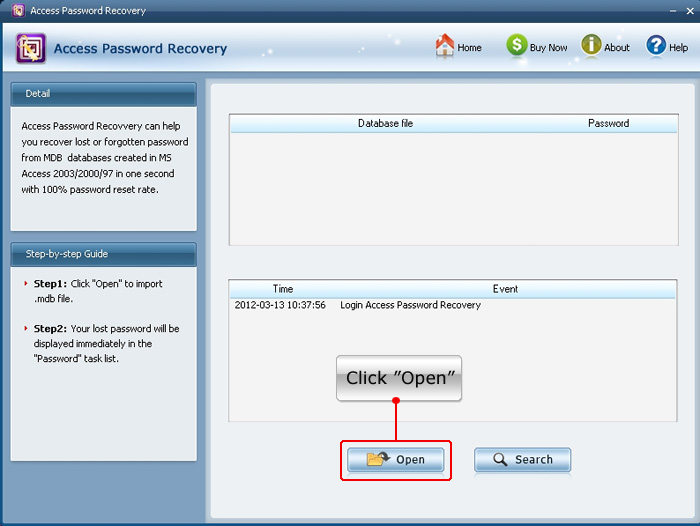 Step 2: After input the encrypted Access files, Access Password Recovery will immediately display the password in "Password" task list.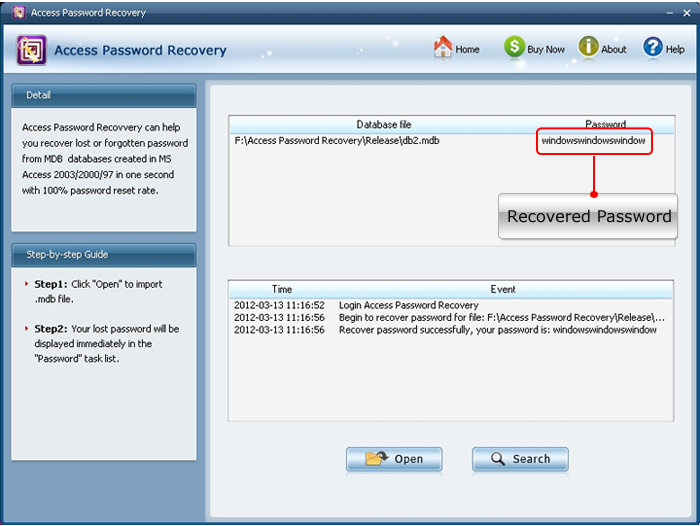 Is that software easy to use? Only two steps to recover the password. And after that you may need to have a look at how to remove the password.
Part 2: How to Remove Password from Access Database 2016
If you get tired of enter password when open a password protected Access Database, remove the password can be a right thing to do. But how can we unset the password? Just follow us!
Tips: This method is based the situation that you already got password, if you don't know the password, come to the first part and recover the passcode of your files.
Step 1: Open your MS Access Database 2016/2010/2007/2003, and choose the target file to open;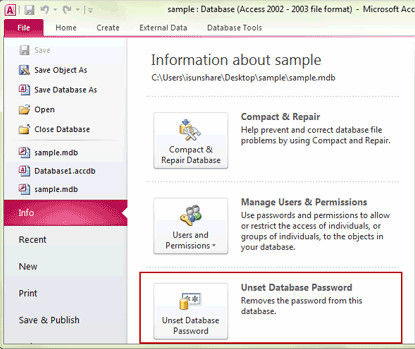 Step 2: Enter your password and choose "File" >> "Info" >> "Unset Database Password". After click "Unset Database Password", MS Access Database will ask for your password again. Input the passcode and now you have successfully unlocked an Access Database file.
Part 3: Some Suggestions for Users
Actually, an encrypted Access Database files can be relatively important than the other files. To better keep its security and protect your privacy. We suggest all the users who find out their password by Access Password Recovery, please do remember to keep your password.
1. Write down the password on notebook or keep it in your phone notes;
2. Choose commonly used password.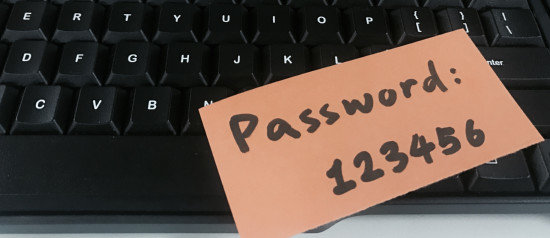 In a word, kindly treat your password, but if you accidently forget Access Database password, don't hesitate and get help from Access Password Recovery.
Download SmartKey iTunes Backup Password Recovery:
comments powered by