Lost My Windows 7 Login Password, How to Find it

2013-10-29 09:15:05 / Posted by Michael Eric to Windows Tips
Follow @MichaelEric
"I lost my Windows 7 login password, actually it's the administrator password, is it possible to get around this problem?"
You must be locked out of your Windows 7 computer and have no access to your confidential files right now. Thus it's really urgent to retrieve your lost Windows 7 password when you came across this Windows 7 login password lost problem. Luckily, Windows Password Recovery can help you a lot and give you a time-saving problem-solving experience.
How to Find Lost Windows 7 Login Password Instantly?
No matter for Windows 7 administrator password lost or other Windows 7 login password lost, Windows Password Recovery can retrieve the lost password with great ease. All you need to do is perform a few clicks. No more prior skills or requirements are needed.
Here is the instruction for how to find your lost Windows 7 logon password.
Free Trial "Windows Password Recovery Tool":
First, download and install Windows Password Recovery on an available PC.
Second, burn this software to a default CD/DVD/USB on this PC and click "Burn" to start burning an ISO image file to the device.

Note: You have two ways to burn Windows Password Recovery. Click here to learn the other one: Create a bootable CD/DVD to a new image.
Third, pull out the newly created device and insert it to your locked Windows 7 computer. Specify the device and set BIOS to boot from the device.
Last, select the target account and password you want to retrieve and click "Reset".
Added Info: How to Remove the Windows 7 Login Password?
Maybe you are a forgetful person and you often lost Windows 7 starter password, you don't want to recover it every time you forgot it. So you want to remove the password-protection even it's not advisable. Here are the steps to remove the password you have created before.
Clicking on "Start" and then open up the Control Panel.
Click the User Accounts and Family Safety option.
Under the User Accounts section, click on Change Your Windows Password.

In the Make Changes to Your User Account window, click on "Remove Your Password".

Windows 7 asks you to confirm your choice to remove your Windows 7 login password by typing in your current password. Forgot is? Go to reset it as the above steps.
Well, now you can have a full control of your password, letting it never lost. If it was lost, just go for Windows Password Recovery to remove it and gain access to your Windows 7 computer again.
Download SmartKey Windows Password Recovery Standard:
comments powered by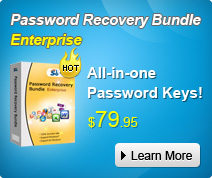 NEXT TOPICS

Office Password & Key
Recover all your Word, Excel, ppt, accesss office files password