Forgot iPhone Passcode, How to Recover it

Nov. 20, 2013 09:05 am / Posted by Michael Eric to iTunes
Follow @MichaelEric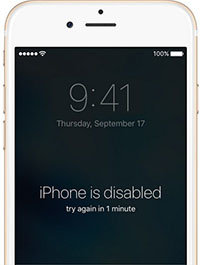 "What to do if i forgot the passcode to my iPhone 5c?"
Putting four-digit passcode on your iPhone is really an effective method to keep prying eyes away from your device and personal data. But what if you outsmart yourself and find you forgot iPhone passcode? And your iPhone has been disabled like below after too many attempts.
Once if you forget your iPhone 6 Plus/6/5S/5C/5/4S password, you will lose the access to your iPhone and not be able to reset your password by using the iPhone alone. Thus you need to recover your iPhone passcode by connecting the iPhone to the computer that you have been using to sync and back up your iPhone. Then put your iPhone into recovery mode to restore the iPhone and clear the passcode. This technique will erase all the content on your device – including the passcode – and replaces it with a backup of your choosing.
However, if you encrypted your iPhone backup and forgot the backup password, then you must turn to iTunes Backup Password Recovery to get back the access to iPhone's backup.
How to Recover Your Forgotten iPhone 6 Plus/6/5S/5C/5/4S Passcode?
Here are the easy and straightforward steps for you to reset forgotten iPhone passcode in just few minutes.
Step 1. Turn off your iPhone before connecting it to the computer. Hold down the "Power" button and work the boot-off slider that appears on the iPhone's screen or hold down the "Power" and the "Home" buttons simultaneously.
Step 2. Connect the iPhone to the computer while pressing and holding down the "Home" button. This will cause the iPhone to restart. Keep holding the "Home" button until the message "Connected to iTunes" appears on the screen. The iPhone is now in recovery mode.

Step 3. Click on the "Restore iPhone" button in iTunes.

Step 4. Click "Restore and Update". The iPhone reverts to its factory settings, which will clear the passcode. This process also removes all data from the iPhone.

Step 5. Run "Sync" to load all of the data saved in your most recent backup onto your iPhone.
That's all for how to reset iPhone 6 Plus/6/5S/5C/5/4S passcode by putting it into recovery mode to restore. Then you can set a new iPhone passcode now. But to be more cautious, try to remember it this time.
Download SmartKey iTunes Backup Password Recovery:
comments powered by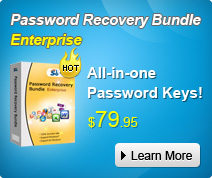 Password Recovery Software
NEXT TOPICS

Online Password & Key
Crack and get back all your online webiste password such as facebook and twitter